In our ongoing quest for maximum authenticity on our Mark IV's, Steve Stuart and I have been discussing the Spud Box (well, it helps to banish the 'January Blues'
).
This was originally intended to store the 'spuds', which were the shoes fitted to the outer edge of the tracks to, supposedly, improve traction through the mud. As I've mentioned on another thread, these didn't really work, and were more trouble than they were worth (although I'm minded to try and model them in due course). However, there are other facets about the Spud Box which we've been considering, so I got out my books and pictures and did a bit of digging .....
On his excellent model of
Bloodstone II
, Steve has angled the exhaust cover (part EK0637, Stage 29 of the build instructions), which is a departure from the recommended build. I didn't think this was right at first, as I thought everything would need to be straight for ease of spud stacking and storage. But I found this picture (pictures of the roof of Mark IV's are not that common) which shows that he's right: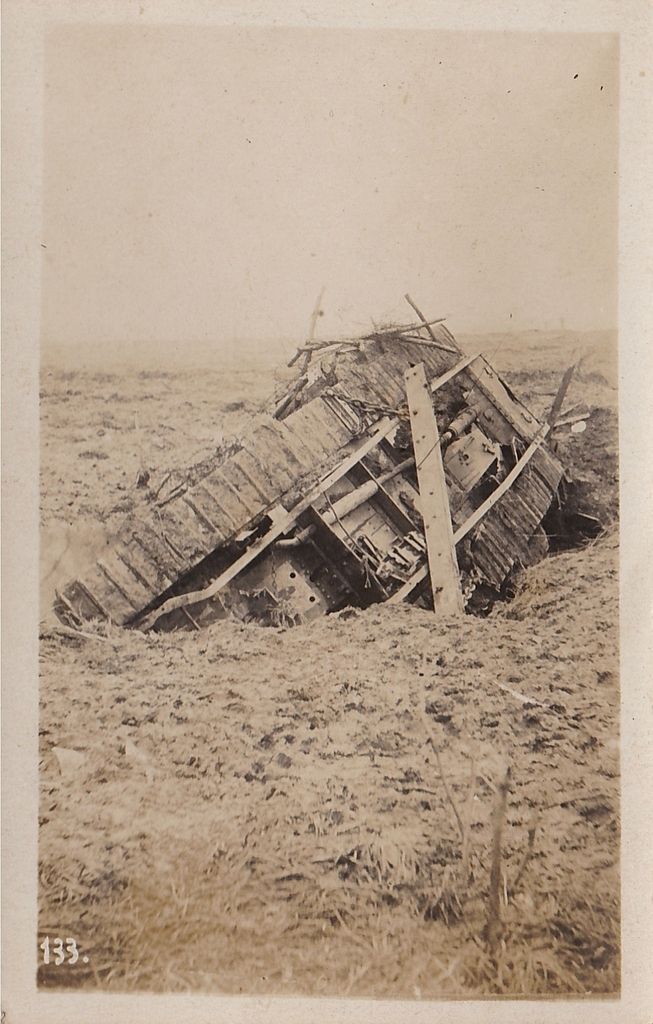 And then I found this picture (much less clear) that suggests he's wrong: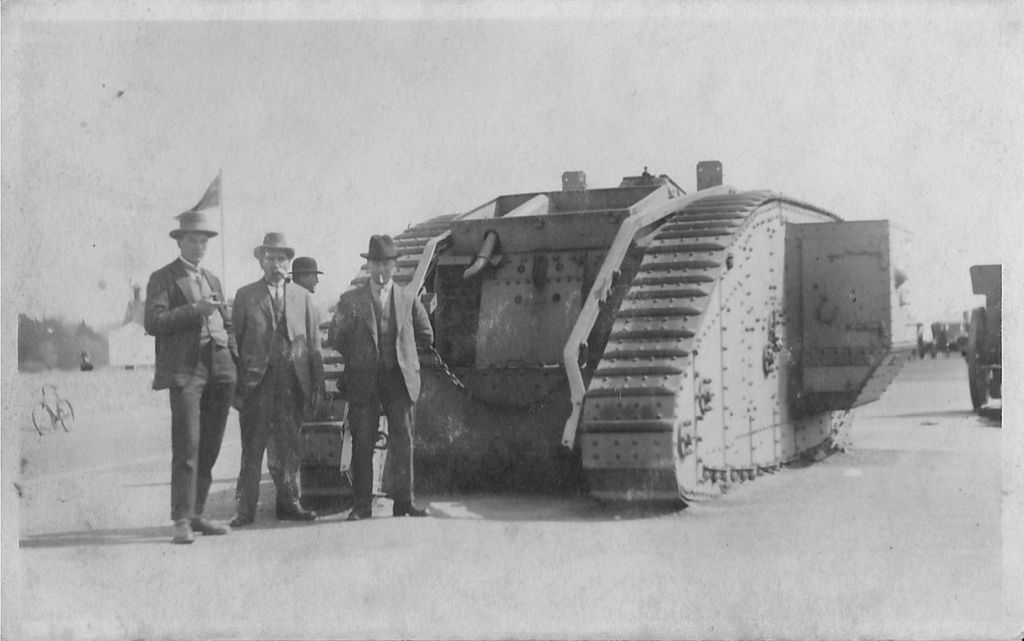 I then looked at the photographic evidence for my builds -
Liesel
and
Flaming Fire II
(which became
Lotte
). The pictures I have suggest, gratifyingly, that the exhaust cover was straight on these particular tanks: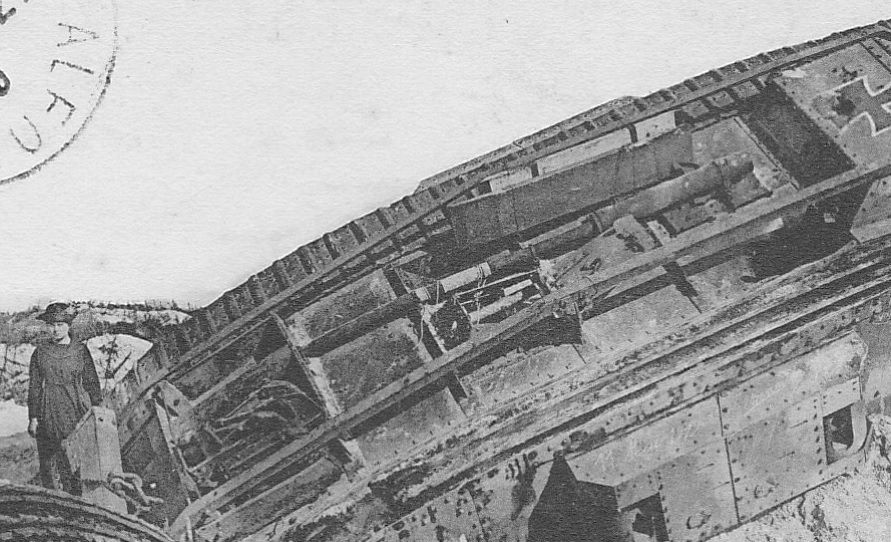 Liesel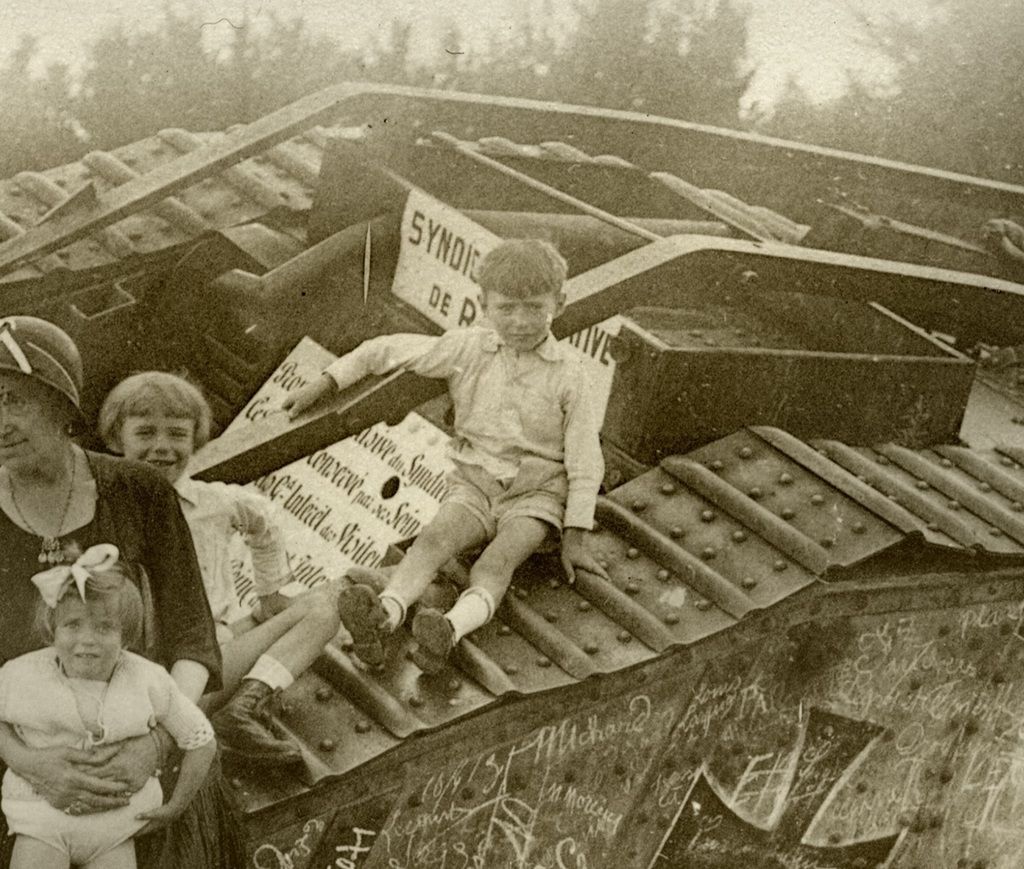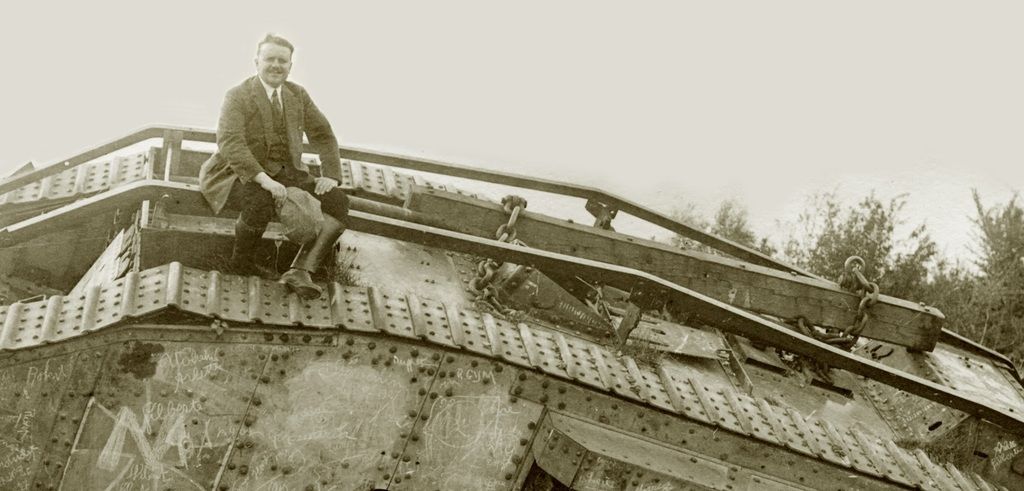 Flaming Fire / Lotte
although the exhaust cover for
Lyric
, which replaced
Liesel
in 1926, definitely looks angled !:
So where does that leave us ? Well, it's possible that these things were altered 'in the field' when the unditching rails and rear armour were fitted, as these were not done in the UK. This is perhaps more likely with
Lyric
, which was a 'top tower' modified to tow sledges loaded with oil, grease and ammunition. But I'm now more inclined to believe that this is another example of inconsistent build standards across the different factories contracted to turn out the Mark IV's in considerable quantities and to tight deadlines (well, there was a War on). Therefore, as I've said before, unless you have clear photographic evidence of the actual tank you're modelling, you can justify it any way you like ! And Steve has told me it was a very difficult thing to do .......
The other thing I was pleased to see in the pictures of
Lotte
(I really must study these things a lot more closely
) is the bar over the Spud Box, designed to stop the unditching rails from splaying out. I'd read about it, and modelled it on
Liesel
, but never actually seen one before ! This was actually a very easy thing to model - I just used a length of thin brass tube (from B&Q), slotted and glued over two long M3 bolts used to fix brackets EK0657 to the unditching rails. If I can do it, anyone can !
One last thing. Steve has also identified an extra strip line at the rear of the front cab (clearly seen in most of the above pictures). This isn't provided in the kit, so it's one more thing to add on .... unless you've already hammered rivets into those holes, when it's probably not worth the bother ! And some of the pictures also show that extra work (rivets and a pistol port) is needed to the hatch on the "rear house" (EK0646, Stage 32).
I hope that you're tolerating my ramblings, which I hope will encourage those still soldiering on with their builds. These things really are wonderful, historical items, which reward the extra level of work and detail (especially with the forthcoming centenaries !).
All the best,
Chris