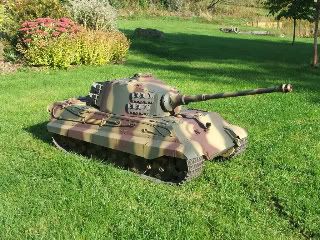 To follow up the brief ad for the sale of my King Tiger I hope the following details will be of interest to anyone thinking of becoming an owner of Armortek's top-of-the-range KT replica.
My KT is number 72 of the limited edition of 104 sold by Armortek.It was bought in June 2009 and I completed the build in September 2011 after 318 hours absorbing work. It has a Futaba 7c radio control system installed and included in the price.
Additions to the basic kit include:-
-
Armortek motion pack
(= main drive, turret rotation and gun
elevation)
-
Armortek smoke units, sound system and working headlight
-
two pairs of 20 volt batteries
to double the running time between
charges
During the build I made some alterations and additions ( as advised by the Forum experts!) to add to the visual accuracy and useability of the tank. These included:-
- rear deck and turret roof made as single units to facitate access
- modification to enable track tensioners to be adjusted externally
- correct scale hexagon-headed bolts used wherever practical
- scale towing shackles front and rear
- false welds wherever achievable
Not being an expert painter I have achieved a basic camouflage (using Tamiya Acrylics) leaving further detailing, weathering etc to the new owner!
Having thoroughly enjoyed the build process I am eager to tackle another tank replica so it is with mixed feelings that I offer the KT for sale in order to fund the next challenge!
The original kit and extras cost over £6600 . I believe therefore that, bearing in mind how few Armortek KTs there are worldwide, a price in the region of £5250 - £5500 to include the r/c but excluding collection /delivery is a fair price to ask. If you want to disuss or need further information please contact me via the Forum pm in the first instance.
Martin Taylor